Premarital Counseling: What It Is And Why You Should Do It?
Getting married is one of the most important milestones in our lives. Congratulations on becoming engaged to the love of your life! As soon as you said "yes" or popped the question you were probably already envisioning the perfect life the two of you will share together.
Practice Makes (Almost) Perfect Marriages
The benefits of premarital counseling were probably one of the farthest things from your mind when you decided to get married. As the date draws nearer you may begin to wonder how preemptive counseling can strengthen your relationship with your soon to be husband or wife. Imagine having the benefits of having a third-party weigh in on common marriage concerns like raising children, how to deal with extended family, coping strategies for secular couples, and more.
You may be wondering if entering premarital counseling is a step you should take as the big day approaches. This is a normal reaction.
Having doubts is one of the main reasons people choose to have sessions with a licensed therapist or life coach in the first place.
While there is no such thing as a "perfect union," premarital counseling can help you and your partner address issues that married couples commonly struggle with.
Premarital Counseling in a Nutshell
Many people assume "counseling" is only for people that are already in the midst of challenges. This isn't always the case. Engaging in premarital counseling helps you and your spouse learn how to identify issues and handle conflict that will inevitably arise at some point in your marriage.
Premarital counseling is highly recommended for couples in the engagement stage of marriage. Premarital counseling is a form of family therapy designed to help couples stay connected during times of crisis. This popular form of couples counseling provides a future husband and wife with conflict resolution strategies; for example, making sure you're on the same page in case emergencies happen (such as financial troubles).
The purpose of this proactive counseling strategy is to prevent couples from engaging in negative behavior that often breaks marriages, should those issues ever come up.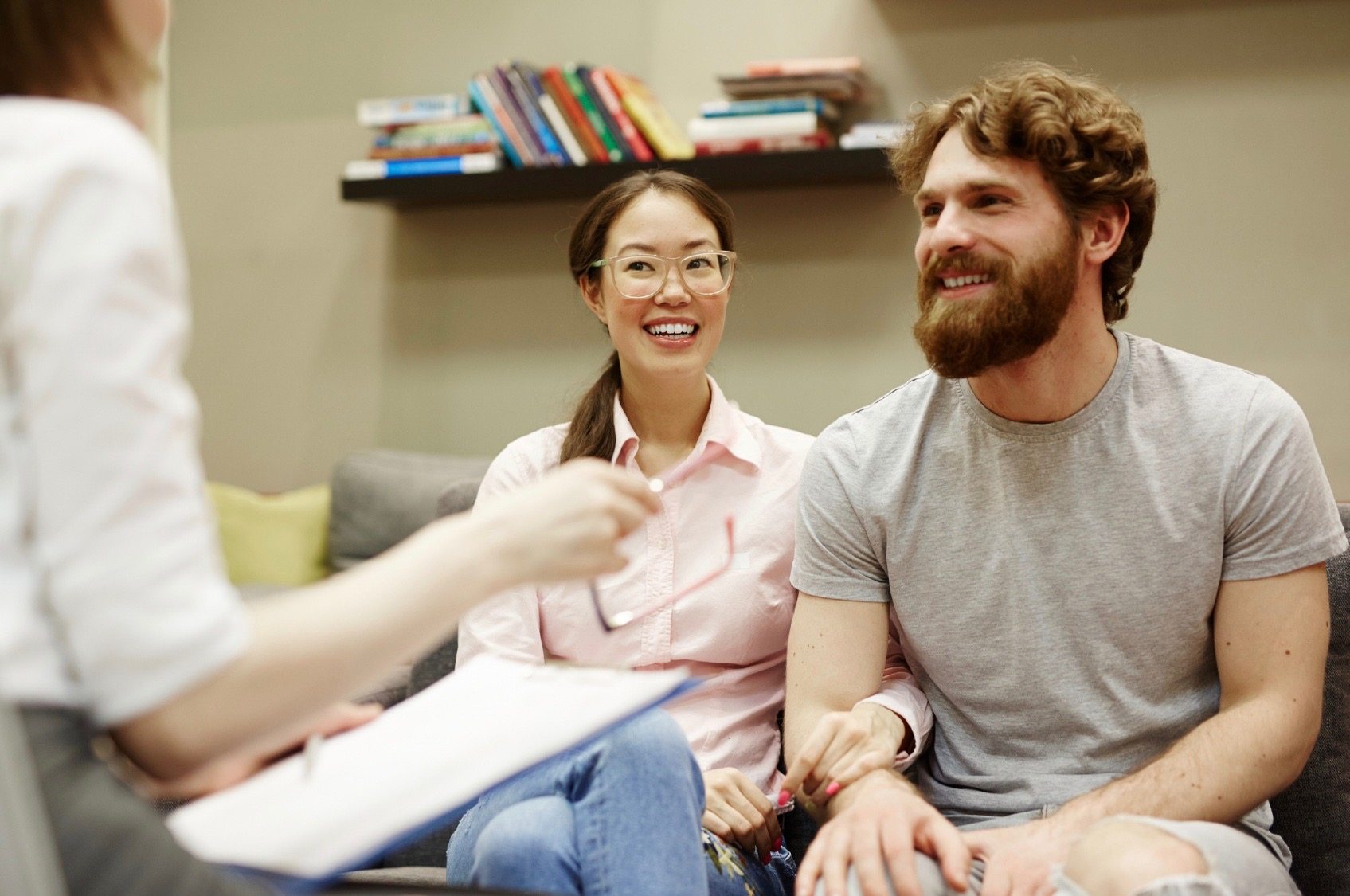 Premarital Counseling Can Help You Build A Healthier Relationship
Examples of some topics that are discussed during marriage preparation therapy sessions include:
Individual and Joint Finances
Parenting styles
Communication styles
Conflict resolution strategies
Decision-making styles
Gender roles in the marriage
Family therapy
We'll cover these premarital counseling topics, and others, in more detail later in the article.
Keys to a Healthy Marriage
Statistics show that today's marrying couples don't plan on getting divorced. In fact, at least 93 percent of Americans think that a healthy marriage is one of the most important life goals. However, we probably know at least a few people who have gone through divorce. Although a majority of couples begin their relationship with the best intentions, the truth is, sometimes life presents unforeseen challenges. Maybe your partner needs to relocate for work, and you start realizing that you didn't trust each other the way you thought. There are countless possibilities for the challenges life throws at a couple. The good news is, participating in family therapy or premarital counseling can help you achieve a lasting and fulfilling partnership.
Research shows that when couples attend private counseling, it increases their chance of having a successful marriage by 30 percent. Essentially, premarital counseling helps you prepare for marriage.
Actively maintaining a healthy relationship is one of the best things you and your spouse can do to ensure your marriage will last, and to protect your individual mental health, too. As mentioned above, premarital counseling with a couples therapist can help couples who have been arguing over common issues like household chores and finances. Using premarital counseling services before marriage helps couples identify potential weaknesses in your relationship that could lead to problems or even the failure of the marriage.
Premarital Counseling Styles
Depending on your religious background, your reasons for seeking counseling before marriage, and the personality of you and your partner, there are different types of pre-marriage counseling you can partake in. Choosing the right type of professional counseling for you and your significant other can greatly increase its effectiveness and the benefit you get out of the experience.
Religious premarital counseling – Many religious institutions require couples to attend some sort of counseling before performing the marriage ceremony. If you are planning on getting married in a house of worship, check to see what requirements they have. This faith-based counseling can be a combination of different styles, including group courses, one-on-one meetings with a religious advisor, and/or compatibility tests.
Online premarital counseling courses – If you and your partner prefer a more private experience, there are online courses you can take to help get you closer to achieving your marriage related goals. Online courses generally take no more than half a day and will help facilitate discussion with you and your partner. BetterHelp licensed therapists can help you get started with self-guided sessions online. When you participate in premarital counseling sessions online, you receive thoughtful information about how to anticipate and positively respond to conflicts in your marriage. You will receive a certificate of completion at the end of the course as a reminder of your hard work and commitment to your marriage.
One-one-one professional counseling – This is the most traditional method of premarital counseling. One-on-one counseling sessions are one way that premarital counselors have been helping people build solid relationship foundations for years. Premarital counseling sessions teach you how to tackle common issues related to long-term commitment struggles. Small issues like deciding on food and drink or household chores have the potential to cause future problems in a marriage – if left unchecked. When you're meeting with a professional counselor you know your sessions are completely confidential. Confidentiality is guaranteed, even when you meet with a licensed counselor or therapist online.
Compatibility tests or questionnaires – These personality tests are assessments designed to find areas where you and your partner already have a strong foundation of respect and communication. Compatibility tests and questionnaires identify areas that may potentially pose a threat to your relationship once you are officially married. These mental health assessments aren't meant to be a pass or fail test. These assessments should be used as a resource to help facilitate your individual growth and ability to offer proper support to your partner during the course of your marriage.
Group courses and discussion – While couples generally don't just rely on group counseling for their marriage preparation, it can be helpful to have larger group discussions with engaged couples and married couples-to learn different perspectives and ideas. You and your partner will learn of new conflict-resolution strategies you may not have considered without the guidance of a licensed professional.
Benefits of Premarital Counseling
The obvious benefit of counseling before marriage is that you and your partner are taking steps to ensure your marriage will be stable and happy. The best premarital counseling sessions teach engaged couples the necessary skills to cope with issues that will inevitably arise in intimate relationships.
A more detailed look at the benefits of premarital counseling can help you decide if professional counseling is right for you and your partner.
1. Create mutual goals and resolutions for your marriage – You and your partner may have different ideas of what specifically will mean you've achieved a happy and successful marriage. By discussing beforehand what you both hope to get out of your marriage, you can determine a few resolutions that combine what you both want. This gives you common goals to work toward that you both believe in.
Source: johnnywriter.com
2. Understand, adapt to, and improve communication styles – Yes, that's quite a mouthful. But what it boils down to is that you and your partner will better understand the strengths and weaknesses of your own and each other's communication styles. This helps you know how to adapt to them to ensure that you'll be able to successfully talk through potential problems instead of ignoring them or arguing about them.
3. Head off potential conflicts before they become a problem – Do you know you have trouble saving money and it drives your partner crazy? Premarital counseling will give you a chance to get issues like this out in the open before you say "I do." Often couples will avoid talking about issues they have, choosing to believe that in the glow of newlywed life they'll simply go away. This is the exact opposite of setting yourself up for a successful marriage. Pre-marriage counseling will help you work through these issues now and help you understand that your differences don't need to lead to larger problems.
4. Dismiss marriage anxiety – For some people no matter how much they love their significant other, the thought of a lifelong commitment can still be cause for some anxiety. If you or your partner is dealing with this anxiety, premarital counseling is a great option for you. During your counseling sessions, you can confront possible causes for anxiety and work through them. Facing issues head-on helps you and your partner feel reassured that marriage is the next positive step for your relationship.
Strategies for Premarital Counseling Success
If you and your spouse decide that professional premarital counseling is for you, there are ways you can help ensure you get the most benefit out of the experience. These include:
Understand that it will be challenging. It will cause you to discuss and face some issues that you'd rather leave alone. But, this is how you and your partner will grow in your relationship!
Don't try to "cheat" or downplay thoughts and opinions to make it seem like you and your significant other are completely compatible. This completely ignores the point of the counseling, which is to face issues head-on.
Let go of the idea of "winner" and "loser". Learn to embrace the idea that you're both on equal playing fields.
Respect that time with your counselor is a "safe zone" and that what you discuss with your counselor can't be fuel for future arguments or "I told you so" moments.
Don't share what you discuss in counseling with anyone-even your closest friends and family members. What you discuss in counseling is solely for the ears of your counselor and partner. Spreading that around will only break trust.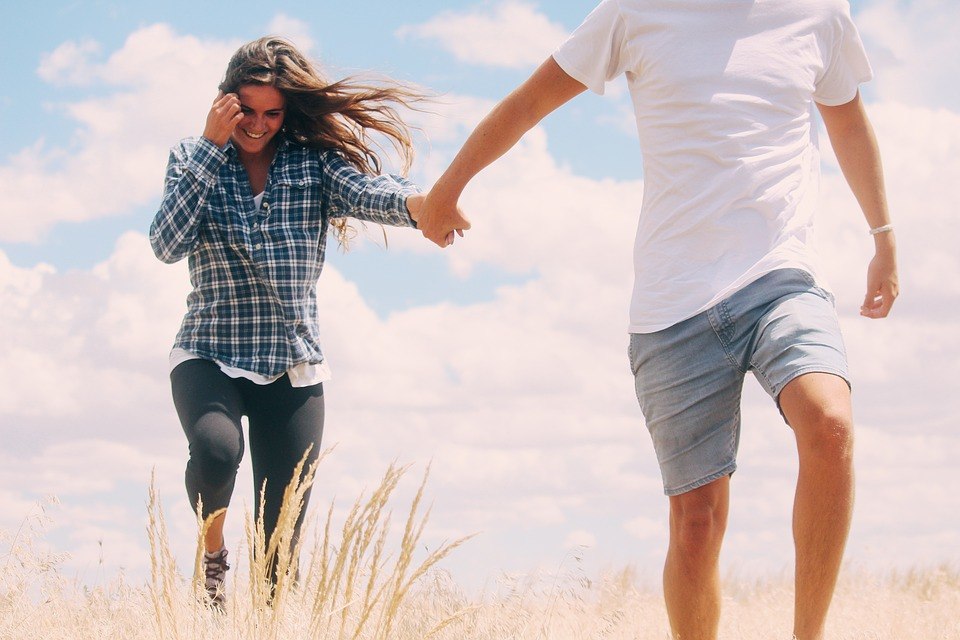 Source: johnnywriter.com
If you and your fiancé(e) have decided to embark on the premarital counseling journey, there are plenty of resources available to help find the professional counselor for your intimate relationship needs. You can also find links to books and articles online to help prepare you for your sessions. Taking the time to go through pre-marriage counseling:
Gives you the skills to effectively communicate with your partner.
Proactively handles potential problem areas in your relationship.
Strengthens your mutual respect for one another.
Builds the foundation on which a strong and happy marriage can thrive.
How BetterHelp Works with Engaged Couples
Pre-marriage counseling is often provided by professionals over the course of just a few short sessions. The number of sessions varies according to each couple's needs. A typical session involves therapists asking couples to do a variety of activities and exercises. Couples complete activities together and separately to learn how well they function together.
Premarital study exercises may include a written test or questionnaire (which we will cover in an upcoming article), acting out or responding to potential situations they may face in marriage (i.e. how to react to their spouse losing their job), and creating marriage resolutions and goals.
Today's busy couples may have trouble scheduling in-office appointments for counseling. Along with managing individual responsibilities like work and family, the time leading up to a wedding is busy. Online counseling sessions with BetterHelp counseling and therapy professionals is convenient for busy couples who are serious about strengthening their relationship.
When you attend premarital counseling online, you gain access to a professional therapist and tools from anywhere you have a solid internet connection. Attending premarital counseling online provides engaged couples with the convenience you need to maintain your busy life – while preparing for a new one. Read reviews of our BetterHelp counselors below, from people experiencing similar issues.
Counselor Reviews
"Johnny really helps me set goals for communication, and it's really crazy how much it's improved the communication in my marriage. he also asks me every week what I'd like to work on, so it's just really great to be able to decide and then to put it into action. Without him, I wouldn't even know where to start."
 
"John is a gem! he's very thoughtful, thorough, honest, insightful but most of all helpful. This is coming from a person that never wanted to do counseling and just "knew" I didn't need it. he's been key in helping my wife and I find our better place. he made us grow as a couple and individually. Thanks John!"
Preparing for Marriage
Pre-marriage counseling is something you and your future spouse should seriously consider as part of your strategy to build your marriage on a strong foundation.
Imagine the following scenario.
You've just settled on your dream honeymoon location. You can see your toes in the sand of a five-star resort. You're not going to end up there without preparation to make sure everything goes just right. Instead, you'll either take the time to painstakingly research places on your own or you could work with a travel professional who can help you through the process and ensure you'll have the honeymoon of your dreams.
Professional premarital counseling is a bit like planning your dream honeymoon with a travel agent. Chances are that you'll have a successful marriage without outside intervention; however, you can increase the likelihood of success when you work with a professional premarital counselor. Take the first step today.
Frequently Asked Questions (FAQs)
What does premarital counseling do?
Premarital counseling is a conversation between a licensed counseling professional, you, and your partner. During premarital counseling sessions, you, your partner, and your counselor learn about what makes your relationship tick. Counseling helps you to get a realistic view of yourself, your partner, and your relationship,
Should you do premarital counseling?
If you want to have an advantage and know exactly what you're getting into — premarital counseling is highly recommended. People learn how to communicate with their partners and if their life goals, wants, and needs are in alignment with their partners. Premarital counseling can give both participants insight into the behavior of their partner in a marriage.
What is the average cost of premarital counseling?
Premarital counseling services can fluctuate greatly. Depending on where you live you may find free and low-cost premarital counseling services via community service organizations and religious organizations like churches. You can also find affordable premarital counseling services online at provider sites like BetterHelp.com.
When should you start premarital counseling?
You should start premarital counseling as soon as you begin seriously considering marriage, family, and long-term relationships. The benefits of premarital counseling are unlimited and getting started as soon as you begin thinking about marriage can give you an advantage over couples who opted not to get counseling.
How long should premarital counseling last?
There is no set time limit for how long premarital counseling should last. How long you and your partner get counseling before marriage is up to you. Counseling can help couples to prepare for success in marriage by addressing common marital challenges before they arise.
What is asked in premarital counseling?
Premarital counseling can help couples to identify strengths and weaknesses in their relationship before they get married. A premarital counselor will ask questions about your life, relationship history, and other questions to learn about you and your partner.
Does premarital counseling reduce divorce rates?
Research has shown that premarital counseling can help couples reduce divorce rates by addressing marital problems in advance. Couples who choose to take part in premarital counseling give themselves an advantage by preparing for married life in advance.
Does insurance cover premarital counseling?
If you're looking for premarital counseling in NYC and other major cities, you may wonder if your insurance covers premarital counseling. In most cases, insurance will not cover the cost of premarital counseling as there isn't an associated condition like behavioral health or medical issues that requires treatment from a licensed medical provider.
Can pastors charge for counseling?
Premarital counseling in NYC and larger cities may be available from local churches and religious services organizations. Pastors and other licensed counseling providers can charge a nominal fee for premarital counseling services.
Can unmarried couples go to counseling?
Yes. Unmarried couples who are thinking about the future can go to counseling. Learning how to communicate with your spouse and what to expect in a marriage can help shape the direction of the relationship. Premarital counseling can help couples see each other clearly as individuals before saying "I do." New York premarital counseling services are easy to find. (If you're looking for premarital counseling in NYC, a quick Google search can point you in the right direction.)
How do I know marriage is right?
Only you know what you desire in a partner and a relationship. Once you've found a partner that meets your needs and vice versa, you may consider marriage. Taking part in premarital counseling sessions help you to learn more about yours and your partners needs. Common issues to address in premarital counseling sessions are physical needs, emotional needs, financial needs, sexual preferences, religion, and having children.
Talk to Johnnywriter about the problems you are facing in your relationship